In recent months, we have seen tremendous strides made in Tunisia for equality and freedom.
Just last month,

tens of thousands of activists from around the globe converged on Tunisia for the

World Social Forum

, the "annual counter-hegemonic meet where opponents of neo-liberalism, free trade and austerity rally together".
The slogan of this year's forum, which ran from March 26th to 30th, in keeping with the spirit of Tunisia's January 2011 uprising, was dignity. After all, the Jasmine Revolution began only after

Mohamed Bouazizi, a 26-year old Tunisian street vendor, set himself afire on December 17th 2010, in protest of the confiscation of his wares and the humiliation that was inflicted on him by a municipal official. All Mohamed wanted was dignity, and his cries for it can still be heard across Tunisia, echoed by most of the countries citizens.
Most Tunisians describe their uprising as a struggle for dignity – the term "Jasmine Revolution" was only ever used by foreign journalists. They have been demanding affordable basic necessities, the right to employment and to a more just and equitable society.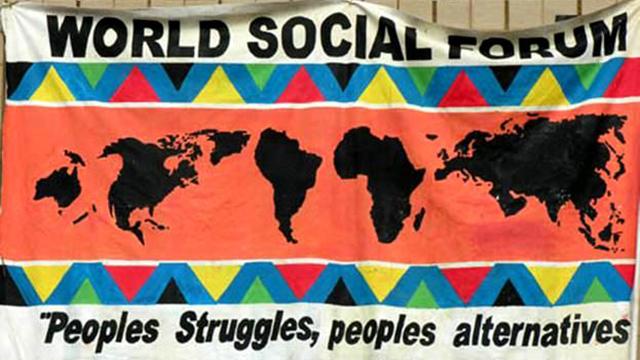 Romdhane Ben Amor, a spokesperson for the WSF organising team, told Al Jazeera that organisers had initially hoped to hold the event in Egypt, but had opted for Tunisia due to its comparative stability.
It's the first time the forum was held in an Arab country.
The issue of public debt was one of the main topics on the forum's agenda.
"It's a leading dilemma in Tunisia," said Ben Amor. "There's no work, prices are rising, the government isn't able to invest in society, and it's all because of the debt."
According to Al Jazeera, "
Tunisia is currently negotiating a $1.78 billion dollar loan from the IMF to help keep its economy afloat, and the newly-formed government may sign the agreement this month. Yet the reforms the IMF is pushing the government to accept would, according to some economists, make life even harder for a population that so recently rose up in revolt over economic misery." We can only hope that this is not the case, especially after the tremendous strides Tunisia has made as a nation in recent months.
It is estimated as many as 50,000 visitors from 128 countries gathered at the World Social Forum to discuss shared economic and social problems. The forum began with all these participants marching down the streets of Tunis, the capital. For the Tunisian citizens who attended, I am sure there was a feeling of dejavu from when their protests initially began several years ago. However, this time they were marching in a different Tunisia, a changed Tunisia.
T
he debt has not kept Tunisia from making great strides in efforts to promote freedom and equality.
Just last week, g
uarded by armed Tunisian police, Jewish revelers chanted and danced in a three-day pilgrimage to the El Ghriba synagogue, the oldest synagogue in Africa, located on an island resort 500 kilometers south of Tunis.
In 2011, after the uprising that toppled former president Zine El
Abidine
Ben Ali, the annual celebration was canceled. In 2002 militants linked to
al
Qaeda
attacked the synagogue with a truck bomb killing 21 Western tourists. In 2012 only a few dozen Jews attended out of fear of possible attacks by hard line
Islamists
.
Security for this year's pilgrimage was tight, with hundreds of police on duty.
"The strong presence of security is a positive step and sends a message to the Jews in the world that Tunisia protects us even if its leaders are Islamists", Perez Trabelsi, the head of the Jewish community in Djerba, told Reuters.com
Hosting both the World Social Forum, as well as offering high levels of police protection for an ancient Jewish pilgrimage? This does not sound like the Tunisia we know and have learned about in class. So we must ask ourselves, have we truly seen progress in Tunisia? Is the Tunisia we see now different from the Tunisia of a year ago? Two years ago? Or even of 10 years ago? It is hard to argue that Tunisia has not changed. Hosting the World Social Forum and the recent return of an ancient Jewish pilgrimage under military protection seem far from possible under the regime of Ben Ali. Perhaps Tunisia has yet to reach its goals of dignity for all, but the country where the Arab Spring started is setting a wonderful example for it's neighboring countries to follow.
This is not the Tunisia we have learned about in class. It is a new Tunisia; one striding for freedom, equality, and of course, dignity. It is nearly impossible to say Tunisia has not changed, and is not continuing to change and transform from the country it once was to a more democratic nation. Prior to the revolution, Tunisia was plagued by government censorship, a lack of civic life, corruption, and vast human rights violations.
Since the revolution, non-governmental organizations have reconstituted themselves and hundreds of new ones have emerged. For instance, the Tunisian Human Rights League, the first human rights organization in Africa and the Arab world, which operated under restrictions and state intrusion for over half of its existence, is now completely free to operate.
Tunisia is a shining beacon of future possibilities in an area of the world ravaged by war and revolution. Tunisia has proven that through the chaos, we can find peace and new democratic ideals. Although Tunisia still faces tremendous debt as well as other more complicated social issues, if the nation continues in the direction it is currently moving, we can only expect to see a once corrupt,authoritarian state, become a budding democracy and a role model for other nations within the Middle East and North Africa.
Works Cited:
Amara, Tarek, "Jews revive annual pilgrimage to Africa's oldest synagogue", Reuters.com, http://www.reuters.com/article/2013/04/27/us-tunisia-jews-idUSBRE93Q07L20130427, last updated Saturday April 27th, 2013
Yasmine, Ryan, "Tunisia World Social Forum to blast austerity", Aljazeera.com, http://www.aljazeera.com/indepth/features/2013/03/201332653645288688.html, last updated March 26th, 2013