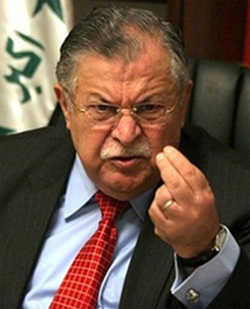 President Jalal Talabani
2013 has proved to be a rough start for
Iraq
thus far.
Sectarian
animosities
are still present, however, they are starting to
take new form. They are
now playing out without some
of the players that were once very influential
in enforcing
the rules. While the majority of Iraqis grew very tired
of
U.S.
presence, the reality was that the
U.S.
was the
only actor
capable of bridging sectarian divisions before
they spiraled into
violence.
Now with the U.S. gone, and President Jalal Talabani's heath decreasing, charges of political dominance and sectarian discrimination among Prime Minister Nuri al-Maliki's opponents have left most wondering if Iraq is about to face the year's first open confrontation.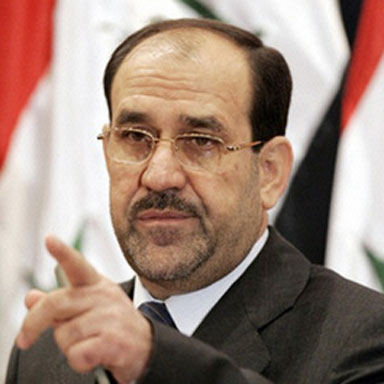 Prime Minister
Nuri al-Maliki
A few months ago, Iraqi police invaded the Finance Ministry
Rafa al-Issawi
building and detained around 150 bodyguards who worked
for Rafa al-Issawi, the chief minister for financial affairs and
one of the government's top Sunni officials. Shortly after,
news broke out that the Shia led government was targeting
the staff of a top Sunni politician. Upon hearing this,
thousands of Iraqis from the Sunni heartland flocked
to the streets in protest. These were so large that
the major highway connecting Baghdad to Jordan
and
Syria
was completely shut down.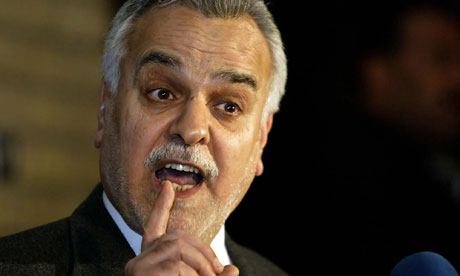 Vice President Tariq al-Hashimi
This, however, wasn't anything new for the Sunni population. Last year, they experienced something similar to this when Iraqi security forces arrested several guards who worked for the Vice President Tariq al-Hashimi. After the confession of plotting terrorist attacks, Hashimi fled the country to
Turkey
in order to avoid the death sentence. Whether or not he was actually guilty is irrelevant, though. What is important is that a huge majority of the Sunni population viewed these arrests as a carefully planned vendetta by a Shia led premier against the Sunni rival. The marginalization and alienation felt by the Sunni's when Saddam Hussein was overthrown was now being relived and reinforced.
In the past, the U.S. and President Talabani were able to suppress those feelings until that current crisis needed intervention. With the U.S. no longer present and Talabani recovering from his stroke in a German hospital, Iraq must find someone who can perform this difficult task. I think in an ideal world, al-Maliki would fill the spot himself, however, with protests continuing and the prime minister reluctant to back down, it is quite unlikely this will actually happen.