The focus here is to discuss Bahrain current political status. The interesting part of this conflict in relation to some of the other MENA countries currently dealing with protest or revolt is the odd stand still the country is currently in. This is a small picture painted of the current situation in Bahrain.
Ebrahim Aqa-Mohammadi, a member of Iran's Majlis National Security and Foreign Policy Committee, said on Saturday, "Countdown has started for the overthrow of Al Khalifa regime."1 This was a big statement the he made and pointed to the second anniversary of the outbreak of the popular uprising in the Persian Gulf rule, saying, "The inequality of wealth distribution in Bahrain and the ban on political freedoms have persecuted the people of Bahrain and ultimately incited them against the regime."1 At the start of the protest on 2011 Anti-government protesters have been holding peaceful demonstrations across Bahrain since mid-February 2011, calling for a reform of the government.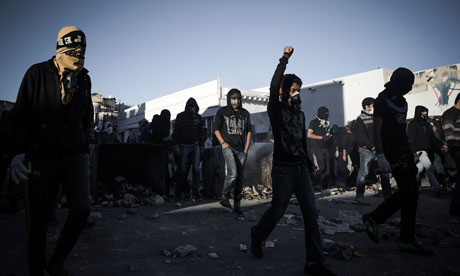 Now, activists who once pushed for reforms are calling for the monarchy's to be ended. Serious talks could provide a peaceful way out. In retrospect, the king's decision to appoint a respected international commission to investigate the aftermath of the initial uprising looks more like a brilliant stalling tactic than a sign of a more just system. So far, few of that commission's recommendations have been implemented.
2
Yet, the monarchy does not want to lose its power; it seems to want to go down swinging. By this I mean, violence against the peaceful protesters escalated after a Saudi-led conglomerate of police, security and military forces from the Persian Gulf Cooperation Council (PGCC) member states - Saudi Arabia, Kuwait, the United Arab Emirates, Oman and Qatar - were dispatched to the tiny Persian Gulf kingdom on March 13 to help crack down on peaceful protesters. 3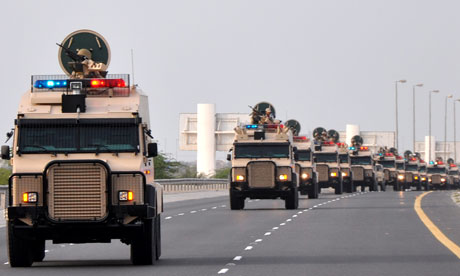 As long with regional supporters, one should note that Bahrain is home to the US Navy's Fifth Fleet, which patrols the Persian Gulf, through which much of the world's oil passes. If the monarchy is toppled, or if the crackdown takes an even bloodier turn, the Fifth Fleet could be forced to leave.
2
Predictably, the Western allies of the Bahraini regime have some underlying self-serving reasons and do not seem to have a desire aiding in democratic talks between the two contesting parties.
This is an interesting problem in that usually western powers are all for democratic transitions but it seems that no regional or western support is going to be given the protestors who want a democratic transition. Yet, the Bahrain people who continue to protest in the hundreds of thousands want a new government. So what will give? The regime with unreleanting support, or half a nation of protestors?
Bib
1.
ASH. "PressTV - Countdown Starts for Collapse of Al Khalifa in Bahrain: Iran MP."
PressTV - Countdown Starts for Collapse of Al Khalifa in Bahrain: Iran MP
. N.p., n.d. Web. 2013. <http://www.presstv.ir/detail/2013/02/16/289219/bahraini-regime-on-brink-of-collapse/>.
2.
MAHDI, MAZEN. "Editorial."
BostonGlobe.com
. Boston GLobe, n.d. Web. 2013. <http://www.bostonglobe.com/editorial/2013/02/20/bahrain-conflict-king-hamad-bin-isa-khalifa-must-offer-more-than-talk/Q3WZcLfpSSmICpnEM0FIKJ/story.html>.
3.
"How Relevant Is the GCC?"
- Inside Story
. N.p., n.d. Web. 22 Feb. 2013. <http://www.aljazeera.com/programmes/insidestory/2012/12/2012122684843236735.html>.